Spiritual Sunshine – A Swedenborgian Community Online at swedenborgiancommunity.org has served as a virtual Swedenborgian community for many years. ODB's Rev. Thom Muller and Spiritual Sunshine's Rev. Cory Bradford-Watts discuss what this resource has to offer to people looking to connect around the mystical teachings of Emanuel Swedenborg:
T: Cory, can you give us a general intro about SS and its history, vision, and mission?
C: The vision of Spiritual Sunshine is to empower Swedenborgian and spiritual connection as well as healthy spiritual learning and embodiment around the world! Particularly, we introduce people to the compassionate, open spirituality that Swedenborg espoused through various online portals, as well as providing pastoral support and active efforts to connect seekers together and with our larger denominational offerings.
Ultimately, we strive to craft content, relationships, and spaces that help people to connect more with their internal light sourced directly from the Creator (known by many names) and heaven. Over a decade ago, our community started as a dedicated and scrappy group striving to create an online connection for seekers and Swedenborgians alike. We've had the blessing of great leaders over the years, including our past ministers: Rev. Sage Cole and Rev. Wilma Wake!
Over the years we've experimented with a number of ways to craft community and share educational tools, and hope that our example has helped inspire others to connect in their own ways online. Historically, our messages were mainly text and audio through our podcast (search for us!), and in recent years we've added video and expanded our social media platforms.
T: You recently went through a name change, can you tell us more about it?
C: We recently changed our front-facing name from Swedenborgian Community Online to Spiritual Sunshine: A Swedenborgian Community Online. With support and feedback from the denomination, our Central Committee and I thought that a name change would better represent the fact that many of our denominational groups and churches are now Swedenborgian Communities Online! Thus, we wanted to reflect that we were just one of many, striving to uplift the spiritual heat and light at the root of all we encounter, much like the others.
Swedenborg describes how the Lord as the Spiritual Sun is at the root of all creation, always working to help beings receive and share their heat and light (love and wisdom); so, we thought Spiritual Sunshine would be an inspiring moniker to remind us of what we are and what we hope to uplift and live up to.
T: Where do you see the use of offering Swedenborgian spirituality to people?
C: Swedenborgian spirituality is wonderfully radical in a few ways, including in how open it is, how centered it is on our diverse unity in love and compassionate presence from God, and all the ways it connects with ancient traditions like Indigenous spiritualities, as well as Hinduism and Buddhism.
In my mind, these aspects and others make it perfect for many modern-day people looking for an inclusive spirituality that can really empower their felt connection with Goddess, peace, their neighbors, and compassionate wisdom. Many people are suffering and are looking to further heaven within and without, and Swedenborgianism can truly help serve those folks.
T: What are the best ways to get involved and stay in touch?
C: The best way to get involved and stay in touch with Spiritual Sunshine: A Swedenborgian Community Online is to sign up for our emails at https://swedenborgiancommunity.org! From there you can reach out to me and catch all of our community messages and connections, as well as find us on social media (also linked on the website).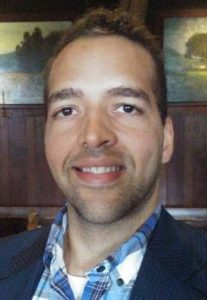 Rev. Cory is a Swedenborgian minister who joined the Swedenborgian Community Online in June 2018. Through his ministry he hopes to uplift others wherever they are, as he (and most other Swedenborgians) believe that all faith journeys are paths to the heavenly city. Ultimately, he believes that love, rationality, kindness, and wisdom are aspects of Divinity with each of us that we can use to further uplift the Heaven within and without. Rev. Cory's other ministry is at The Church of the Good Shepherd in Kitchener, ON.
Rev. Thom Muller is pastor at Hillside, an Urban Sanctuary, in El Cerrito, California, as well as senior editor of Our Daily Bread. His passions include the intersection of spirituality and psychology, interfaith theology, and the Western esoteric tradition. A native of Germany, Rev. Muller was ordained into the ministry of the Swedenborgian Church of North America in 2016, upon receiving his theological education at Bryn Athyn College of the New Church and the Center for Swedenborgian Studies / Pacific School of Religion at the Graduate Theological Union in Berkeley, CA.