"Love, in its essence, is spiritual fire."
–Emanuel Swedenborg, CL §235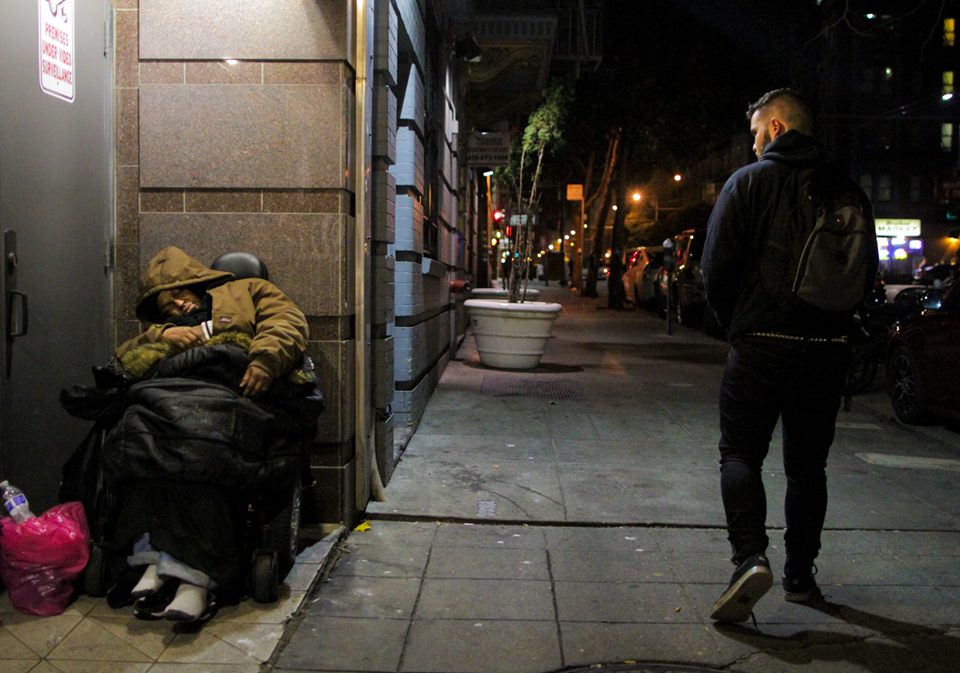 A Night Minister passes a "parishioner" in San Francisco's Tenderloin District                                             
Photograph © by Kyle Ludowitz, kylemerrit.com
The city of San Francisco is a place of immense beauty. Whether you are visiting, or have lived here all your life, you are constantly exposed to the beauty and richness of life. The Bay Area is still booming. There is a lot of construction, lots of young people. But whether you are a tourist passing by or a San Francisco native, you most definitely have also been confronted with the ever-present and ever-brutal contrast between the radiance of success and the despair and darkness, and indeed ugliness of poverty, addiction, and severe, insufficiently treated mental illness in the streets of the city and beyond.
There are many reasons for the seemingly permanent homelessness crisis in the Bay Area. Some factors are record costs of housing, the pleasant weather, and comparatively large (though still far insufficient) infrastructure of public and non-profit assistance. Systemic issues like the lack of proper public health and housing services seem to be the most underlying cause for the embarrassingly high number of un-housed people in America.
When people ask me what the most common denominator is that I see in my encounters on the street, my answer is almost always two-fold: Trauma and drugs. Almost all of the people in deep crisis and persistent houseless-ness which I have worked with dealt with emotional and psychic tragedy, caused by loss or illness, and fell into the vicious-cycle of self-medicating with alcohol or hard drugs.
Street gathering at Civic Center                                                     
Photograph © by Kyle Ludowitz, kylemerrit.com
I think of a parishioner who shared his all-too common story with me recently, I'll call him Oscar. We met around 3am in San Francisco's Mission District, a vibrant, beautiful, historically Hispanic part of the city. I passed Oscar on my walk down the street. He was going through garbage looking for recyclable cans for cash refunds. We exchanged eye-contact, a "Hi, How's your night going," and ended up chatting. The clerical collar tends to make it easy for people to feel safe to open up. Oscar shared with me how his evening had been going (it had gone well, he had a whole garbage bag of cans), and about where he was going to sleep that night (a cardboard box in the entrance of an "American Apparel" store).
For several years, he's been living on the street, mostly in the Mission, sleeping outside storefronts and the occasional shelter. The little money he makes for food and Methamphetamine, he earns through recycling cans, and sometimes through selling drugs. Oscar is a native of Honduras. He came to the United States seven years ago with his wife and little daughter. They had a place to stay and he worked a gardening job.
One day, they had a car crash and his wife and daughter died. You can still see the way his blood-shot eyes light up when talking about them. As one can imagine, Oscar's grief lead him into a deep depression. He drank to numb the pain, and that's when the vicious cycle started. He lost his job, began hanging out with the "wrong crowd" and soon got addicted to Meth and Heroin. Lost his job and his apartment, and within days he was on the street with no network to catch him. It is this story, or a variation of it, that repeats over and over again.
Of course, San Francisco has a long history of "homelessness". The epicenter of the Hippie movement, it attracted masses of young seekers in the 60's. Social outcasts of all sorts began to roam the streets and contributed to its diverse and beautiful culture.But this culture has always had a dark side. One of loneliness and hopelessness, of "falling through the cracks". It was in those days that the San Francisco Night Ministry became a presence of warmth and light to those who had been left behind.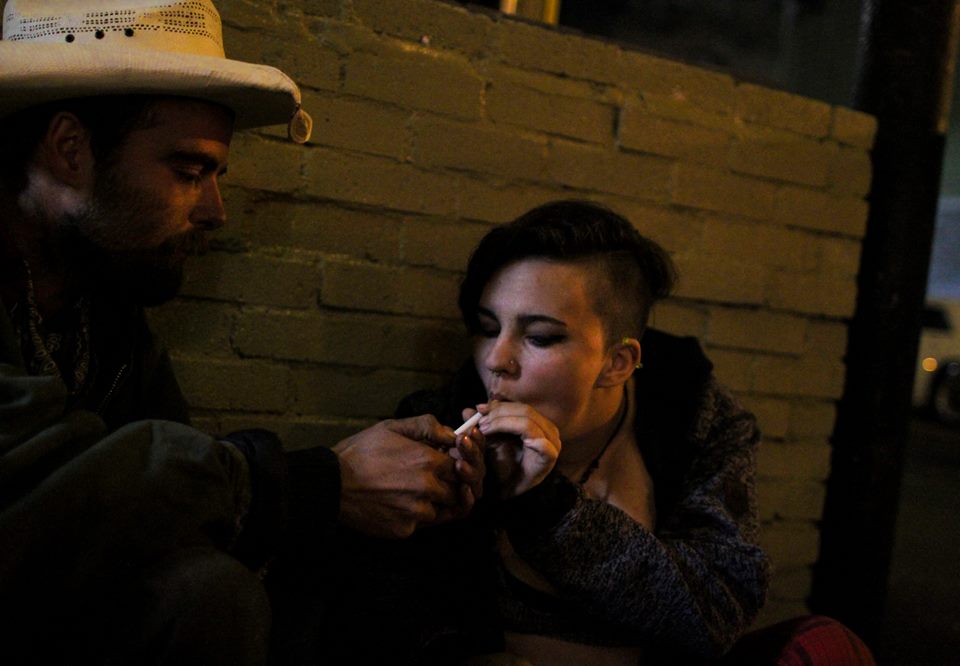 Parishioners share a cigarette                                                 
Photograph © by Kyle Ludowitz, kylemerrit.com
Established by a group of progressive people of faith, its mission has been quite simple, and yet immense and profound: To be a non-judgmental, affirming ministry of love and support to all the people of San Francisco, in those crucial hours when the darkness can seem all-consuming.
There are three main avenues of ministry in this interfaith non-profit organization.
"Night Ministers", ordained clergy from many different religious backgrounds walking the streets, wearing the religious attire of their faith tradition, and being available for pastoral care, prayer, blessings, crisis intervention, referral services, and the occasional pair of socks.
The second is "Open Cathedral", small, open-air interfaith religious services held on Thursdays and Sundays in different public locations (Civic Center and the Mission).
And then there is the "Crisis Line", where trained volunteers, "Crisis Line Counselors" answer calls from anyone needing an open ear and an affirming positive voice.
All of this (not counting administration, fundraising, etc.) happens between the hours of 10pm and 4am. It has been beautiful to see the comfort that it brings to so many people that even at night, if they are in the city limits of San Francisco, they can consider themselves "parishioners" of the Night Ministry. A common misconception is that the Night Ministry is a "homeless ministry". While a large percentage of parishioners are un-housed, any person in the city, be they a corner store clerk, a bus driver, a nurse, a drug dealer, an entertainer, a musician, or a sex worker, is considered part of the "congregation", if they'd like to be, and can reach out to the Ministry for pastoral care.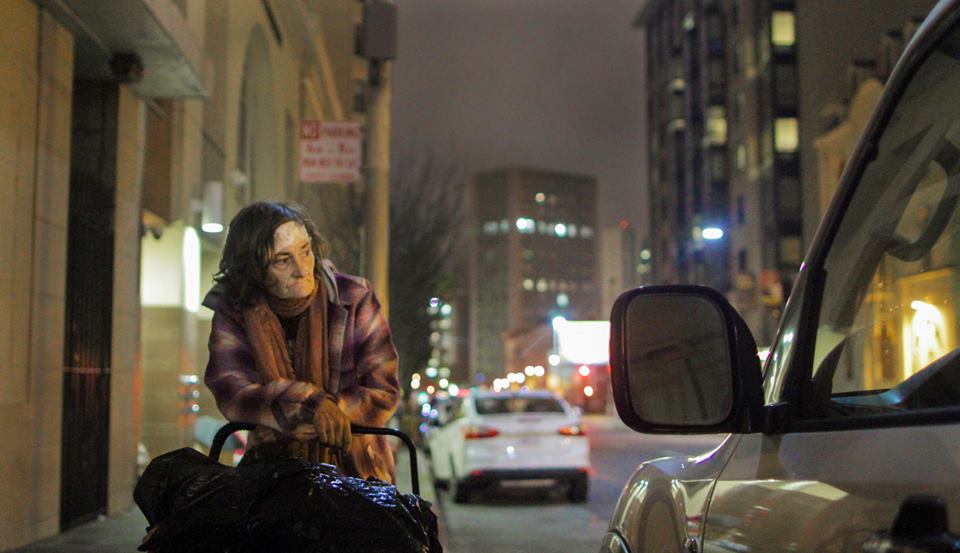 A parishioner transports her belongings through the Financial Disctrict                                                    
Photograph © by Kyle Ludowitz, kylemerrit.com
I began my work with the San Francisco Night Ministry during my seminary education at Pacific School of Religion and the Center for Swedenborgian Studies in Berkeley. SFNM operates an accredited CPE ("Clinical Pastoral Education") program which offers training in pastoral care to aspiring ordained faith leaders. Steeped in an environment of highly intellectual and academic theological discourse, working with the Night Ministry was eye-opening to me.
As Swedenborgians, our theology constantly reminds us that a life of spiritual growth and regeneration is a life of active useful service to others, yet so often we fall into the conceptional and theoretical rabbit holes that are so rich that we sometimes get lost in our own heads rather than being the hands and feet of God. The Night Ministry is a complete counter-balance to this tendency. It is not a ministry of theories, or even of beliefs. While many of its members are deeply religious, there is no proselytizing, no trying to spread a particular religious perspective. There is only hands-on being-present.
"Any person in the city, be they a corner store clerk, a bus driver, a nurse, a drug dealer, an entertainer, a musician, or a sex worker, is considered part of the 'congregation'… and can reach out to the Ministry for pastoral care."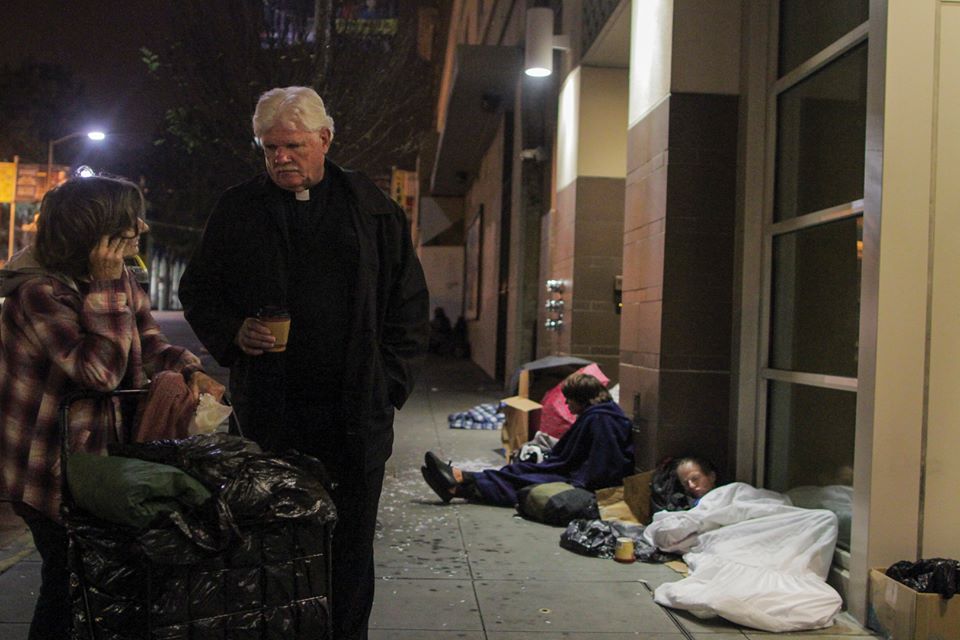 A conversation with "Father Lyle", Night Minister Rev. Lyle Beckman (now retired)                                                       
Photograph © by Kyle Ludowitz, kylemerrit.com
There is nothing I love more than nerding out about the old Swede. But not once have I mentioned his name on the streets between 10pm and 4am. He isn't needed. Whats needed is a listening ear, a compassionate smile, ten minutes of non-judgmental, caring, and affirming conversation. The experience of being worthy and being loved. And the occasional pair of clean socks.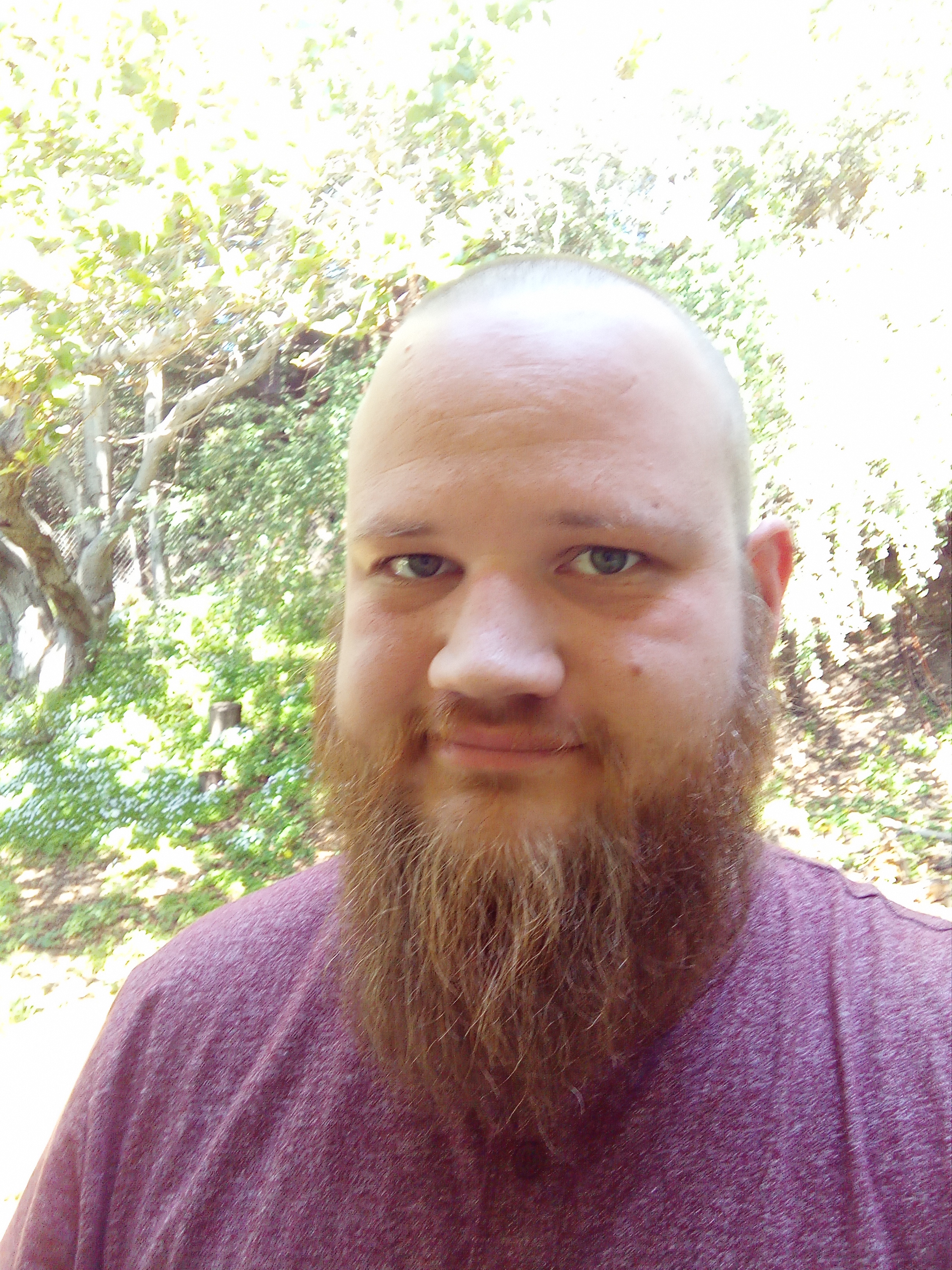 Rev. Thom Muller is managing editor of Our Daily bread at spiritualquesters.org, pastor at Hillside Community Church in El Cerrito, CA, and Assistant Night Minister at the San Francisco Night Ministry. A native of Germany, he holds a B.A. in Religion from Bryn Athyn College and a MDiv from Pacific School of Religion.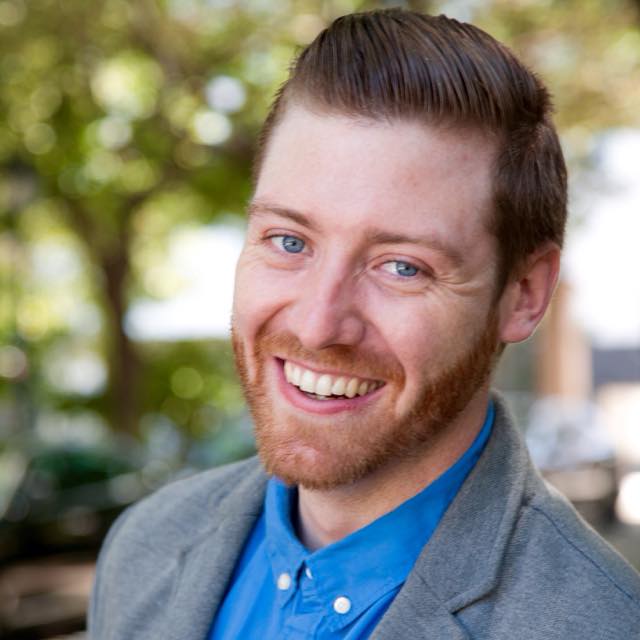 Kyle Ludowitz is a professional Bay Area photographer and has documented critical situations and the human condition in areas such as Syria, Egypt, Israel/Palestine, Myanmar, Cambodia, Kashmir, Thailand, and India. Featuring many crucial stories related to conflict, poverty, child welfare, and woman's rights, his work is found in many publications. His work can be viewed at www.kylemerrit.com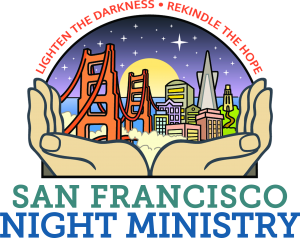 If you would like to learn more about the San Francisco Night Ministry, including information about supporting our work through volunteer opportunities and giving, please visit